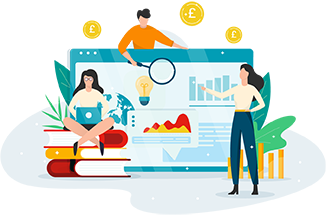 Bookkeeping tips to save you time and money!
Reduce the time spent on your bookkeeping, free up more time for yourself and improve cashflow.
Bank Feeds
A few new clients joining us have previously used online software but not enabled the bank feeds, resulting in hours wasted in manually entering transactions!
Link the software up with your account now to have the transactions downloaded directly into the software.
Bank Rules
Do you have monthly direct debits for insurance, mobile phone bills etc?
Bank rules can be setup so the software recognises the transactions going forward, meaning you no longer have to type out the same details every month.
Recurring Invoices
Do you send sales invoices to your customers for the same amount each month or quarter? Set up recurring invoices to be automatically generated and emailed by the software.
Even better, integrate with a online direct debit facility provider like Gocardless.
This gives you control over the monthly payment process. Invoice payments will also be automatically brought into your bookkeeping software, marking the invoice as paid.
Customer Credit Limits
Reduce your exposure and risk of overdue amounts and bad debts by setting customer credit limits.
Doing this will ensure that the system will notify you or restrict the raising of sales orders and invoices if the customer owes you money above your pre-set limit, meaning less time following up overdue accounts.
Recharge expenses to customers
Don't forget about those expenses you incurred on behalf of customers that you need to invoice on.
When entering the expense, mark it as billable, you will then have the option to select the customer it relates to so that next time you raise an invoice the system will prompt you to include it.
Automatic Invoice Reminders
Tired of sending invoice reminders and statements to customers? Setup automatic reminders in your software so these are sent automatically.
You can set up to three reminders, so you can remind the customer a couple of days before the due date, and after the due date too, according to your preference.
Make use of integrations
There are many software integrations available that will create efficiencies. Link your CRM software to avoid retyping details and also see what marketing activities are generating the most sales.
Link your till system to avoid manually inputting data. Online payment providers like Stripe to make it easier for customers to pay your invoices and have the bookkeeping side taken care of too!
Get in touch!
If you need help setting up any of the above or would like to see if we can help you save time and money with your bookkeeping, contact us now.